Buying a new comforter set for the winter isn't something you can put off for long. You need a new comforter to be warm and cozy in, especially during the cold months ahead. We've researched dozens of comforter sets from large retailers in Canada such as Walmart, Staples, Amazon, and more. You will get all the information you need to choose which comforter is best suited for you and your needs.
In every person's life, a period of time comes when he or she thinks about buying a new comforter for the bed. Such a period usually occurs when the old one is worn out. It does not make you feel comfortable anymore or it has full of stains and everybody gets sick because of that. That's why each of us starts looking for a new comforter to buy. This process can be challenging if you do not know what to look for and where to find such an item because there is one obstacle after another. Those obstacles are products that do not meet your needs or expectations and it is on them I will focus while answering the question "What kind of comforter should I choose?"
Best Rated Comforter Sets Canada
Lucian Comforter
Lucian Down alternative comforter made of premium brushed microfiber and filled with 7D Air Structure materials, super breathable and fluffy, you will totally melt in it and feel like sleeping in a cloud. provides you with Extremely soft and right cooling & warmth for all-season comfort.
Canadian Down & Feather Co – All Season Gel Microfiber Down
This duvet is generously filled. Microfiber doesn't have the same insulating properties as down, so microfiber duvets are heavier. We need a fair bit of fill to achieve the desired warmth. One benefit of a synthetic duvet is that it can be machine washed at home, given your machine is quite large and you wash/dry on a low heat setting. Natural down and feather are quite sensitive to moisture, but polyester is not!
Cooldex All Season Soft Comforter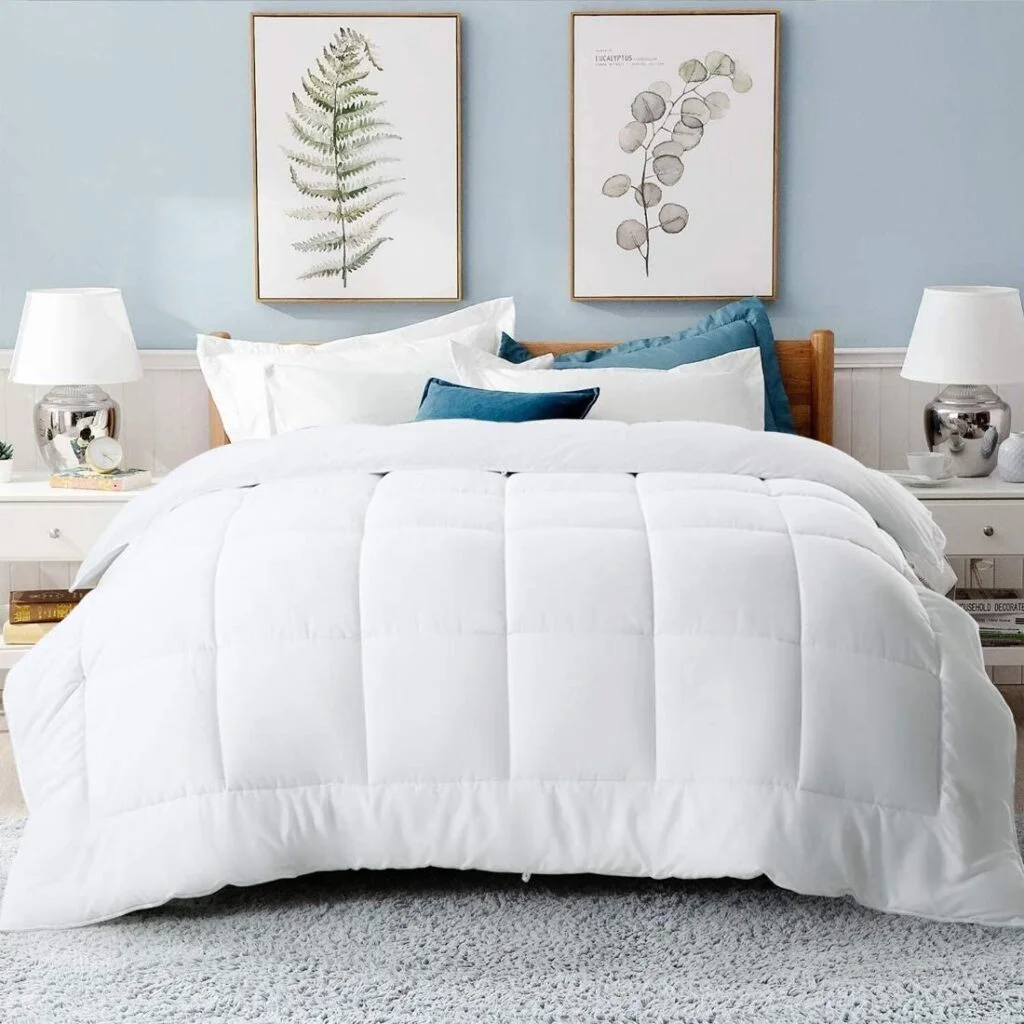 Excellent Thermal Ability: a design for even filler and elegantly piped edges. 300 GSM plush microfiber filler offers fluffy looking and good puff; double-brushed microfiber shell, offers year-round comfort, keeping you warm on the coldest nights, and sound sleep during warmer seasons. Premium and well-distributed filling makes the comforter lightweight but fluffy, not too heavy to pressure you.
Silentnight Anti-Allergy Duvet, 7.5 Tog
Enjoy the benefits of Anti Allergy protection whilst being cool and comfortable with this fantastic Silentnight 7.5 tog Duvet.A non-allergenic Duvet provides dual protection against dust mites and bacteria making it a particularly great choice for allergy sufferers. Machine washable for extra cleanliness and convenience.100% Hollowfibre filling.
Shop guide to buying a comforter
When buying a duvet you'll want to know how warm it will keep you, especially in winter, so it's important to find out its tog rating. You've probably seen it splashed across duvet packaging already, as it refers to how well the duvet is able to trap warm air around you and therefore keep you insulated at night.
The scale ranges from 1 tog (the coolest) to 15 tog (the warmest). For summer, you need a 1-7 tog duvet, whereas 10.5 tog or above is ideal for winter. Buying multiple duvets may not be realistic though, so getting around a 10 tog duvet to use all year is a good compromise.
Feather: On the heavier side of the scale, feather comforters can give you that classic 'tucked in' feeling, with most feather comforters hypoallergenic, helping those who suffer from allergies to enjoy a peaceful night's sleep.

Wool: One of the most common types of comforter filling, wool is a natural fiber used in clothing and other bedding and helps regulate temperature. Wool is also ideal for those who typically suffer from allergies.

Down: Generally the 'fluffiest' comforter you can find, Down doonas are traditionally very light, meaning you won't feel crushed during your sleep. Down comforters also help insulate body warmth and draw away moisture for a more comfortable sleep.

Silk: Traditionally a very fine and smooth material, silk comforters are generally found at the more expensive end of the price range, but maybe worth it if you're looking for a bit of luxury from your duvet.

Bamboo: Another lightweight material, bamboo comforters are also breathable and help to pull away moisture, allowing for additional comfort during your shuteye.

Cotton: Similar to wool, cotton filling helps with absorbing any moisture and is suitable for those with allergies, cotton is also quite durable, meaning it can travel around the house with you on those chilly mornings.

Microfibre: A synthetic material, microfibre is generally the most convenient comforter filling because it's machine washable and can be found in a variety of weights, allowing you to find your preference when it comes to how much you want to be buried under the sheets.
Top-Rated Comforters
Wrap It Up
We have a lot on our list, including some of the best prices that each product has to offer. Obviously, there are a lot of different types, styles, and sizes of comforters all out there, so it would be impossible to recommend one brand over another based on quality alone. When selecting one, look for the ones with good stitching and a solid thread count. Thread count is especially important in a comforter, as it controls the softness and comfort level of your sheets. If you are concerned about wrinkles or shrinkage when it comes to your comforter, you might want to look into a microfiber comforter. This type of material is going to be durable and able to hold its shape over time.