Smart light bulbs are a type of lighting for the home that you can control from your mobile phone or laptop with just a few taps. Some of these lighting products can also be connected with smartwatches and virtual assistants. With a wide and increasing variety of smart light bulbs coming onto the market in Canada, should you consider updating from your standard bulbs, and if so, which type is the right one for your home? Here are a few of the benefits worth considering.
Using various technologies, including light-emitting diodes (LEDs), smart bulbs are generally more expensive to purchase than normal bulbs. However, because they use less energy and are longer-lasting, they offer a greater and longer-term economical advantage that makes the investment worthwhile.
With smart lighting, you can automatically turn your lights on or off, dim your lighting, or even change the colour of your lights with colour-changing smart bulbs. Some products feature the ability to cast the light either in a wide swath or a narrow beam. This makes it perfectly adaptable to different activities, such as reading quietly in a corner, watching television with a cinema-like effect, or hosting a large group for a dinner.
Best Smart Lights In Canada
Our Top Picks For Smart Lights In Canada
Philips Hue White & Color
LE LampUX WiFi Smart Light Bulb
Sylvania WiFi LED Smart Light Bulb
Treatlife Smart Light Bulbs
TP-Link Kasa Smart Wi-Fi Light Bulb
Philips Hue White & Color Ambiance Starter Kit
Philips Hue is the World's Leader in Smart Lighting. * Extend Smart Lighting throughout your home, including outdoor spaces, with the Philips Hue system. What is smart lighting you may ask? It means absolute control of your home's lighting through your smartphone, tablet, Hue wireless dimmer switches, and sensors, or even with your voice. As a bonus, Philips Hue is the only smart lighting product with Energy Star certification and lasts up to 22 years. GOT VOICE? Do you already have a favorite Voice or Smart Home assistant? With the most options for Voice control, Philips Hue Smart Light bulbs work with any Voice or Smart Home Assistant (Works with Alexa, Google Assistant, Apple HomeKit, Microsoft Cortana, IFTTT, Nest, Logitech, SmartThings, Razer, Xfinity).
LE LampUX WiFi Smart Light Bulb
Make your life easier by getting hands-free voice control of your lights.
With LED technology, this bulb will save over 85% energy compared with incandescent bulbs. Add timers for your smart lights to turn on/off automatically at scheduled times.
Sylvania WiFi LED Smart Light Bulb
Hassle-Free Voice Control: The SYLVANIA SMART+ light bulbs are compatible with Alexa, Siri Shortcuts, and Google Home. Power the lights, dim, and adjust colors using simple voice commands – no hub required. Not compatible with Apple HomeKit.
Treatlife Smart Light Bulbs
Dimmable 16 million colors and warm to cool whites (2700K-6500K). Just create your favorite light effects and adjust the brightness as needed. Great for Halloween parties, special occasions, and as a nightlight, these bulbs will add a touch of color to any setting. Control the light from anywhere with your smartphone using the Smart Life APP. Enjoy the freedom of being able to control your smart home lighting from anywhere, whether you are in your cozy bed, in the office, or on vacation. You can create schedules, monitor real-time light status, share devices, and even control a group of lights in your house with a tap of the phone screen.
TP-Link Kasa Smart Wi-Fi Light Bulb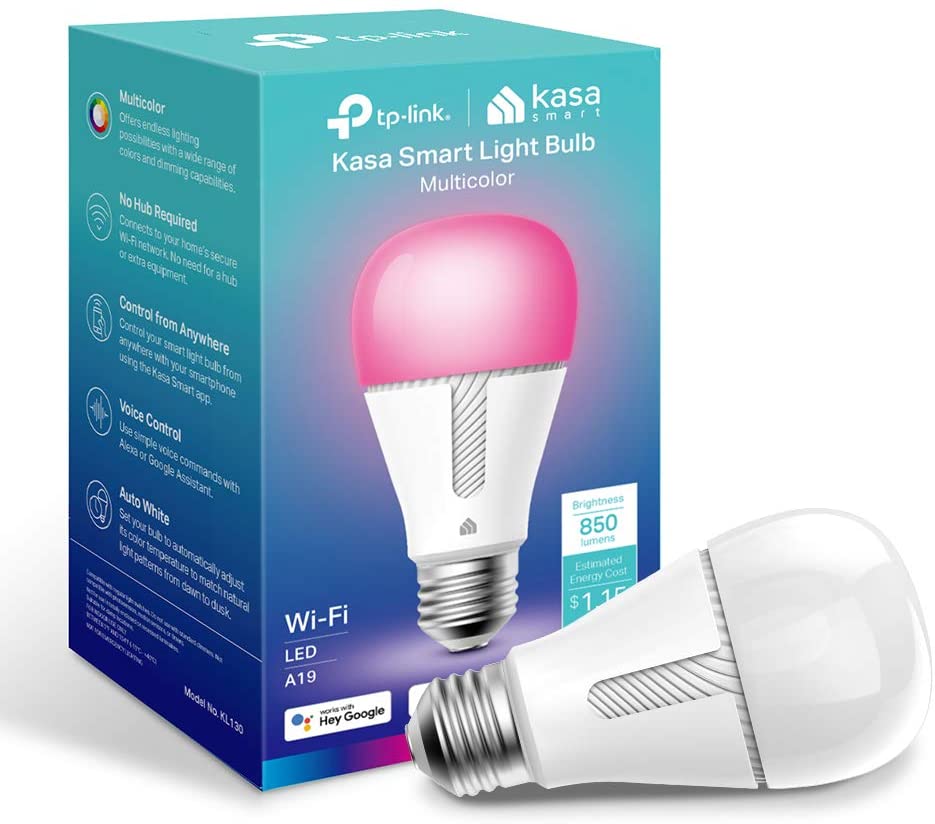 Create the perfect ambiance from anywhere with Kasa Smart's multicolor light bulb. Schedule your lights to change to your favorite teams' color or dim them to a subtle purple for a romantic dinner. Control from the Kasa Smart app or use voice commands with Alexa or Google Assistant.

What Can You Do With Smart Light Bulbs?
Wrap It Up
Overall, smart light bulbs are an easy, affordable way to bring fun and useful high-tech into your home. We've listed some of the best smart bulbs on offer here. Visit Shopbot for further details on the wide range of features and options available.