Whether you're a professional or a weekend adventurer, the next best thing to skiing, snowboarding, or other action sports, is to have a top-quality photo or video recording of your experience. Nothing captures that for posterity like an action camera, and there's a wide range of rugged, 4K cameras that Canadians can choose from. These cameras are small and lightweight, and they can be worn on your body or mounted to helmets, skateboards, surfboards, and bicycles.

In general, an action camera is small, but its lens provides a wide view of your surroundings. How do you choose the camera that's right for you?

Your budget will always be a determining factor, as well as your end usage, image quality, and resolution. You will want a 4K cam for good quality. 30 frames per second (fps) works fine for standard playback requirements, but higher-end cameras with 240 fps enable you to slow down the video for editing, creating a dramatic effect. The size and shape of the camera will influence where and how it can be mounted, so that is of particular importance depending on your sporting activity.

Waterproofing will, of course, be essential for water sports, such as white water rafting, or any activity around water.

Cameras with built-in wifi allow the user to edit their footage on mobile phones and tablets, so if that's a feature that appeals to you, we have a list of the best on offer.
Our Top Rated Action Camera List
DJI OSMO ACTION 4K
GoPro HERO8 Black
Apexcam 4K 20MP
AKASO Brave 7
Insta360 ONE X2
GoPro MAX
360Fly 4K
DJI OSMO ACTION 4K Action Camera
Whether you want to record your world from behind a lens or be the star of the show, Osmo Action's dual screens allow you to capture it all with the touch of a button. A vivid front screen lets you frame yourself effortlessly in any setting, while the back screen delivers a crystal-clear, hyper-responsive display. This durable, versatile action camera is jam-packed with advanced technology that lets you spend less time worrying about equipment and more time living the action.
GoPro HERO8 Black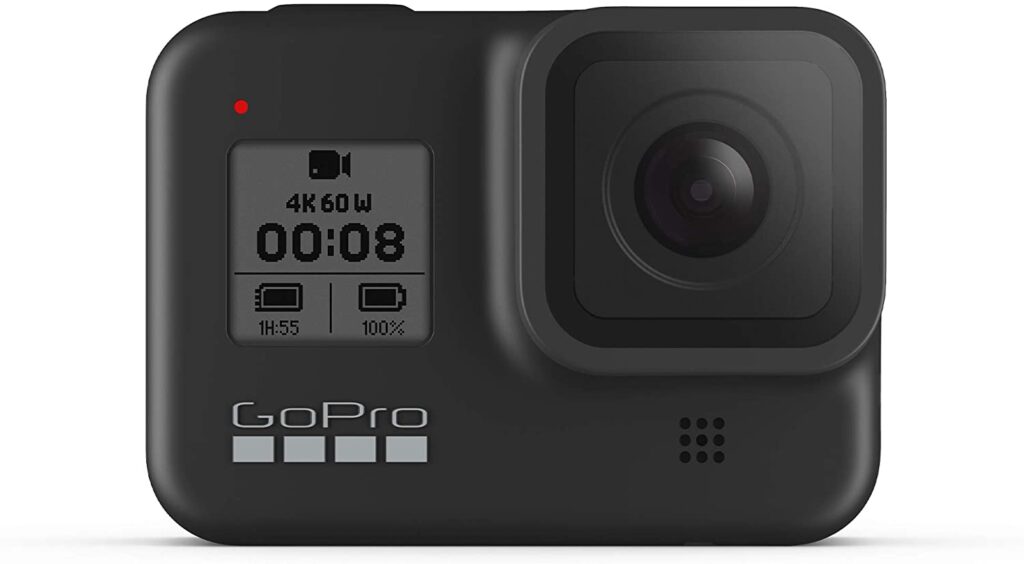 This is HERO8 Black—the most versatile, unshakable HERO camera ever. A streamlined design makes it more pocketable than ever, and swapping mounts takes just seconds, thanks to built-in folding fingers. And with the optional Media Mod, you get ultimate expandability to add more lighting, pro audio, and even another screen. There's also game-changing HyperSmooth 2.0 stabilization with jaw-dropping slo-mo.
Apexcam 4K 20MP WIFI Action Camera
Multi-Function Action Camera: Including loop recording, slow-motion photography, driving mode, image flipping, time-lapse photo, exposure adjustment, white balance adjustment; You can take the camera to a variety of sports environments and use it, the effect will exceed your expectations.
AKASO Brave 7 4K Action Camera
Brave 7 action camera's dual screens allow you to capture it all with the touch of a button. A vivid front screen lets you frame yourself effortlessly in any setting, while the back screen delivers a crystal-clear, hyper-responsive display.
Insta360 ONE X2 Action Camera
Let AI edit for you with the Insta360 app. Shot Lab templates make effects like Stop Motion and Dolly Zoom as easy as a tap. And Deep Track 2.0 enables you to track even more moving objects than before.
No drone? No problem. Watch the stick disappear in your edit, creating a floating camera effect. All that's left is you in the center of the story.
GoPro MAX
Three Cameras in One: Maximize your creative freedom. With MAX you can shoot traditional Hero-style video and photos or capture immersive 360 footage. Vlog to the max with shotgun-mic performance and a front-facing screen.
Live Streaming in 1080p: Shoot in HERO mode and share while you're there. Live stream in 1080p on social, get Max HyperSmooth stabilization as you broadcast via the GoPro app, and save footage to your SD card to check out later
360Fly 4K Action Camera
The 360fly 4K video camera delivers everything you need to capture your entire surroundings in an immersive, interactive 360 4K video from a single digital unit.
Eight glass element ultra-fisheye lens. Allows capturing your life in immersive, interactive 360 videos.
Amazing Action Cameras Footage
Top Reviewed Action Cameras
Wrap it up
In making your decision on the action camera that's right for you, your choice will ultimately be driven by your budget, the activity you want to capture, the product's ease of use and performance, and your viewing and editing requirements. To find out more about these products and their features, visit Shopbot for all the details.