If your kitchen is chaos and you're ready to get organized, now is the perfect time to make a start! There is a wide range of innovative food storage solutions to help you get your pantry sorted, keep your food fresh and make meal prep easier than ever before. Keeping your food safely stored is not only important for keeping things organized, but it's also a great way to save money and maximize your available space.
When it comes to kitchen organization, try and think about what you use most often and where you need it to be. Consider labeled containers, jars, or storage systems to make everything easier too or try and introduce a color-coded system for some impressive kitchen organization. Make sure you utilize all of the space you have, whether it's with stacking containers, over cupboard door hangers, or all-in-one gadgets that save you from cluttering up the worktop appliances. Look for food storage solutions you can label with the date so nothing goes off and if you only use a few cooking utensils regularly, look for a way to store the others out of sight.
Whether you're looking for clever food storage solutions for a small kitchen, pantry organizing hacks, or sealable containers to keep food fresher for longer, we've searched the web for the best Practical Food Storage Solutions for your home.
YouCopia StoraLid Food Container Lid Organizer
The StoraLid, Large cleans up your crazy container lids for an easy win. Adjustable dividers help create different spaces so that lids of various shapes and sizes stand upright. Packing leftovers can be happy (and search-free).
SimpleHouseware Stackable Shelf Organizer
Great for organizing plates, cups, bottles, can in your cabinets, countertops, or even refrigerators
DEFWAY Revolving Spice Rack Organizer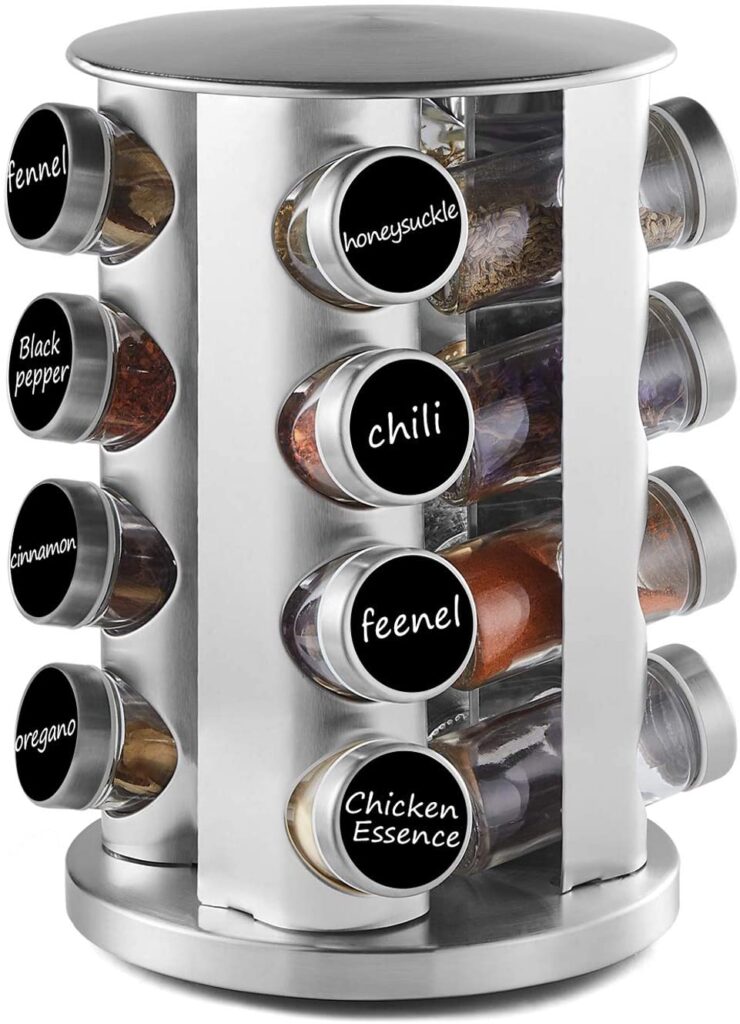 The kitchen spice rack contains 16 glass spice jars (Note: spices are not included) , which are used to store daily-use seasonings (salt, pepper, paprika) and spices (thyme, oregano, rosemary)
Each spice rack is equipped with 32 labels that can be DIY written. You can mark the seasonings and spices you put on each glass bottle, which is convenient for you to identify and find.
Pan Organizer Rack for Cabinets
This pot rack organizer is easy to assemble in 3 methods. Depending on the sizes of your pans, the rack can be adjusted according to meet your needs, giving you more flexibility in organizing your pots and pans. The compact design allows you to save a lot of space in your cabinets, pantries, and on your countertops.
mDesign Food Packet Kitchen Storage Organizer
Great for separating and organizing spice packets, seasoning pouches, dressing mixes, taco seasoning, sugar/sweetener packets, hot chocolate, tuna packets, and small packages of nuts; Great for keeping cat and dog treats and food pouches organized; Use for small, individually packaged snack items for the kids; Organize all of your kitchen essentials.
SortWise 6-Piece Refrigerator Storage Organizer
Fridge Organizers offer plentiful space to fit different types of food items while keeping your refrigerator looking coordinated – The sturdy egg lid allows multiple to be stacked, or other items placed on top – Complements most refrigerator sizes.
ODesign Kitchen Sink Caddy Organizer
3-in-1 design hold more keeps your sponge and brush neat and tidy when finished. Dry quickly without leaving messes.
YouCopia WrapStand Kitchen Wrap Box Organizer
Eight wire holders are fully adjustable on the stand, allowing you to store sandwich bag boxes up to 3.5″ wide. By placing the box opening so it's facing out, the WrapStand can act as a wrap or baggie dispenser!
Roll Up Dish Drying Rack
High-Quality Material – Resistant to rust, non-slip, durable, glassware friendly, and sturdier than stainless steel racks. Oil-resistant, very easy to clean. Collapsible, rolls up for easy storage. Once you're done, roll it up tightly and stick it in your cabinet.
Cuisipro Herb Keeper
The herb keeper's unique suspended tray system makes it easy to store and access herbs. Unique, removable tray suspends at the midpoint for easy loading or removal. Stems are immersed in water for freshness and hydration that extends beyond refrigeration alone. Conveniently fits in most refrigerator doors. Removable tray lifts for easy draining. Hand wash recommended. Perfect for storing asparagus and celery too.
Kitchen Food Storage Solutions
Wrap it up
These handy practical food storage solutions are perfect for the busy, modern kitchen. Making sure your kitchen worktops are clear and you have enough space is key to cooking, so try and reduce how much stuff is on your worktops with smarter storage solutions for food.
Whether you need to save space, you've constantly got an overflowing dishwasher or you can never find the right type of knife, make cooking a dream with an organized kitchen full of practical food storage solutions.
Make sure to compare prices on a wide range of home solutions at Shopbot