Home»
Netgear Orbi Wireless Router AC3000 Tri Band Wi Fi System
Netgear Orbi Wireless Router AC3000 Tri-Band Wi-Fi System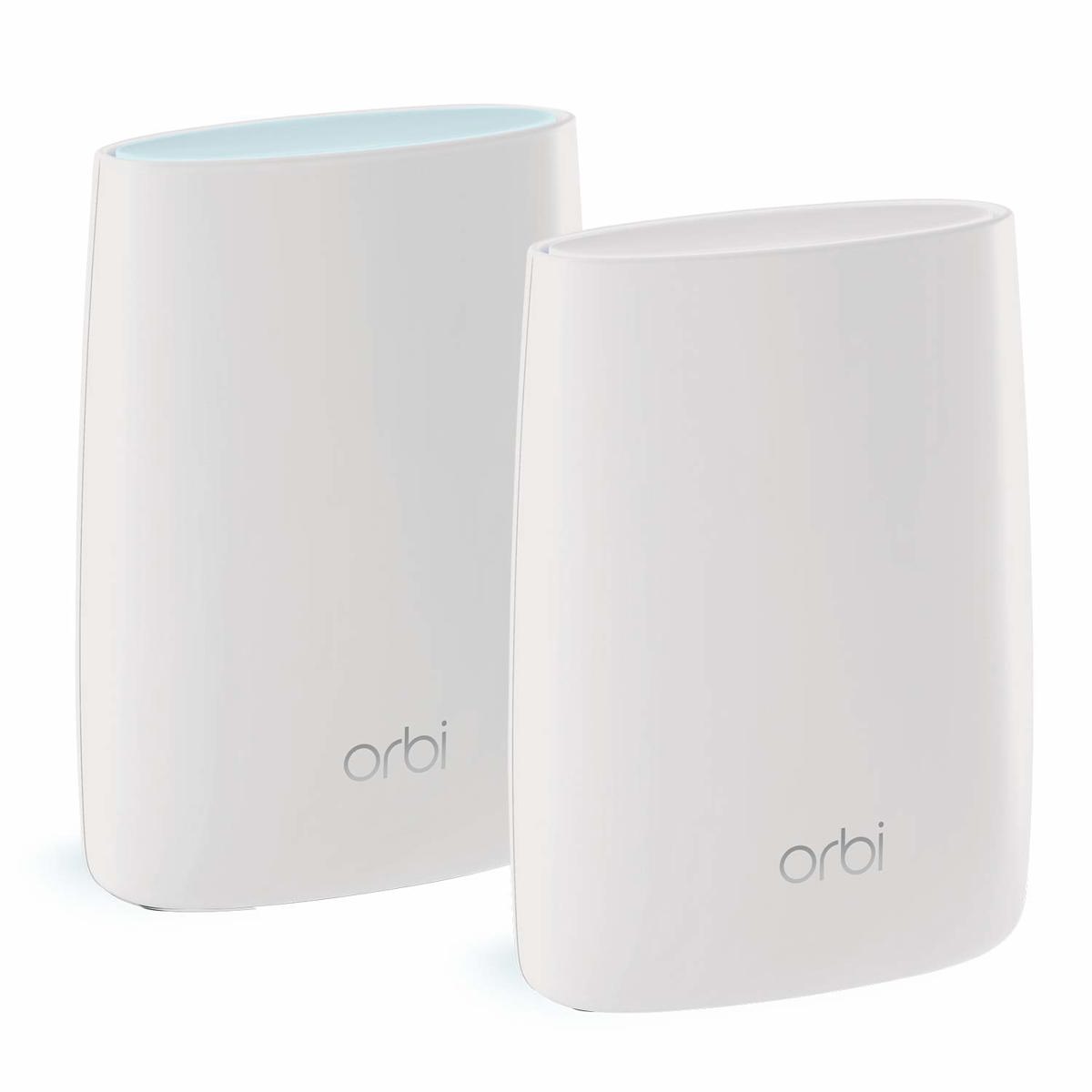 The best price by
$329.99
Netgear Orbi Wireless Router AC3000 Tri-Band Wi-Fi System Description
<b> Better Wi-Fi. Everywhere </b><b> Coverage - Your Wi-Fi hero </b> Get super strong Wi-Fi from the front door to the patio. No more buffering or dead zones.<b> Speed </b><b> Wi-Fi superhighway </b>Stream in the fast lane with Orbi's award-winning Wi-Fi tri-band mesh technology.<b> Control </b><b> Easy voice control </b>Pause your Wi-Fi, turn on guest Wi-Fi and more. Orbi works with Amazon Alexa or the Google Assistant.<b> Secure </b><b> Protection for your home </b> Complete protection from internet threats at home and away, with NETGEAR Armor. Activate 90-days free trial. <b> Ultra-fast Wi-Fi. [Read more...] Wired or Wireless </b> If you like the performance and stability of a wired connection, an Orbi Wi-Fi system is a great solution for you. Connect more wired devices using the four Ethernet ports on the Orbi desktop Satellite. Get instant alerts to your smartphone or computer when threats are detected or blocked. <b> Smart Parental Controls </b>Peace of mind, when online. Set online time limits, block inappropriate websites and pause the internet with Circle on NETGEAR. Use the Orbi app to get started with Circle smart parental controls and easily manage content and time online on any connected device. <b> Orbi App - Do more with your home's Wi-Fi </b> <b> Manage </b> Easily set up your Orbi Wi-Fi and monitor devices connected to your network. <b> Speed Test </b> Run a quick test to make sure you're getting the best internet speed from your service provider. <b> Security </b> NETGEAR Armor keeps you and your family safe from internet threats and scams. Activate now! <b> Parental Controls </b> Set bedtimes, time limits and reward your children with later bedtimes and longer time limits. Orbi comes with Circle on NETGEAR so parents can have peace of mind. <b> Color LEDs </b> Orbi gently glows the status of your Wi-Fi & automatically turns off when you have a strong connection. <b> High Performance RF Frontend </b> 6 Dedicated Wi-Fi antennas supporting Tri-band Wi-Fi with dedicated 4x4 Tx/Rx backhaul. 2 Antennas for Dual-band front haul connections to Wi-Fi devices (2.4GHz + 5GHz Low-band). <b> Heat Sink </b> Cool, fan-less design engineered for heavy processing power for stable performance at high network speeds. <b> Red Dot Winner </b> Sophisticated Cool-Touch Design. Vertical industrial design enables ideal antenna separation, better Wi-Fi range & minimizes RF crosstalk interference.
Prices updated daily on Shopbot. Please refer to the retailer's website for final price.
Product Details
Price
Product and pricing data are sourced from third parties for informational purposes only. We strive to provide correct information, but are not responsible for inaccuracies. Should you find any errors, please help us by reporting it.