Home»
Adam Audio 2x A7X Nearfield Monitor with Sub10 MK2 Subwoofer Speaker Bundle
Adam Audio 2x A7X Nearfield Monitor with Sub10 MK2 Subwoofer Speaker Bundle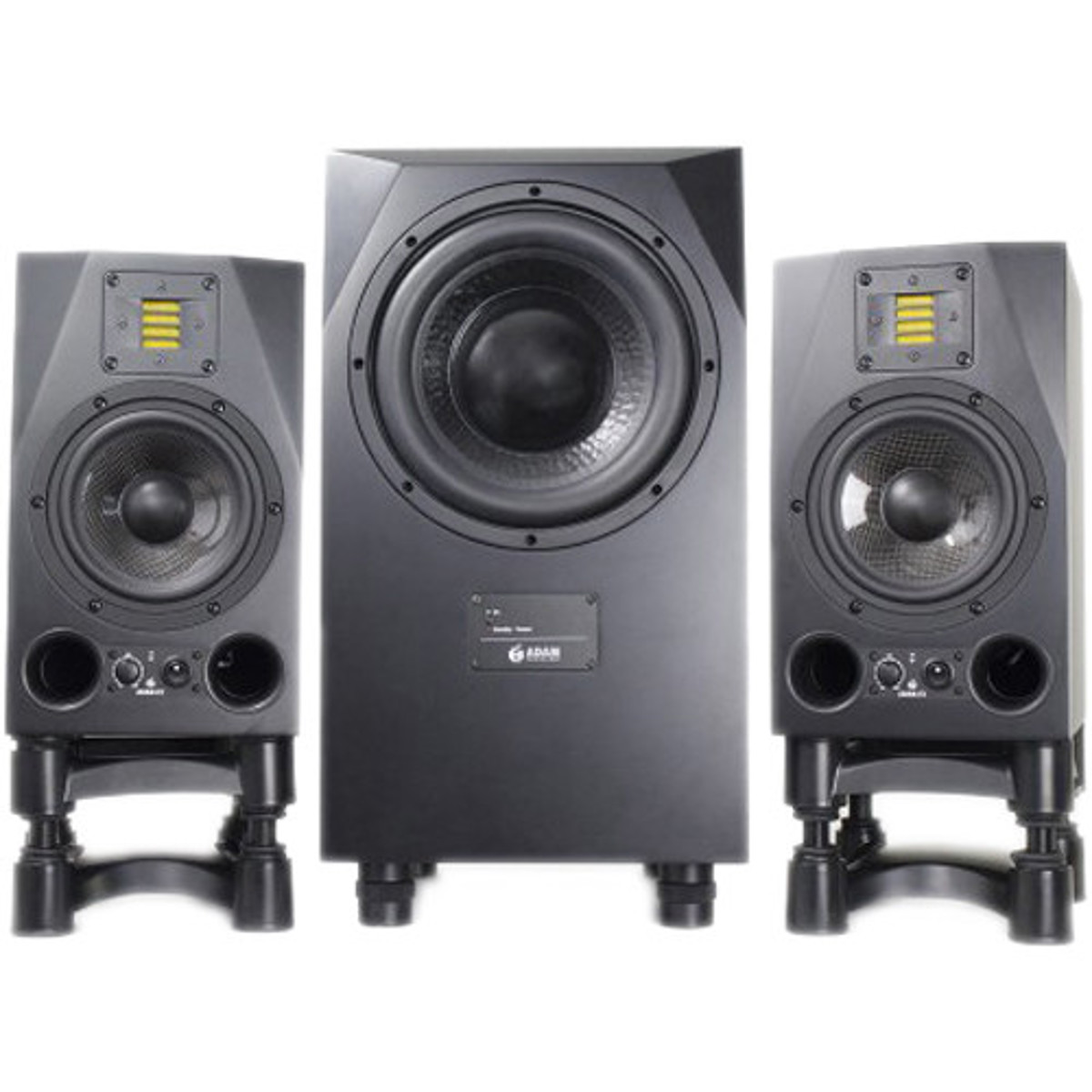 The best price by
$2969.99
Adam Audio 2x A7X Nearfield Monitor with Sub10 MK2 Subwoofer Speaker Bundle Description
<b> A7X Nearfield Monitors </b>The A7X is ADAM's best selling nearfield monitor. It is one of the most balanced and versatile speakers currently on the market. The X-ART tweeter produces detailed, uncompressed highs and upper mids without being tiring over long listening periods. Despite its compact housing, the bass response is powerful and precise.The tweeter is driven by a 50 Watt A/B amplifier and the bass/mid-woofer by a 100 Watt PWM amplifier. This achieves a very clean and nuanced reproduction of the midrange frequencies with a seamless transition in the crossover from the 7" woofer, which operates in the range of 42 Hz to 2.5 kHz, towards the X-ART tweeter. The A7X's [Read more...] ability to exactly reproduce every sonic detail no matter how small, its translucent sound image, tonal depth and stereo localization inspires music producers and explains why it is by far the most reviewed and award-winning monitor in recent years.<b> Sub10 MK2 Subwoofer </b>ADAM Audio subwoofers are designed with one primary goal in mind: Achieving absolute accuracy and an authentic natural sound in the process of music reproduction. This means combining exceptional bass power with precision and clarity in every subwoofer. These elements are the perfect partners to complement the highly acclaimed clarity and transparency of ADAM monitors in the lower and lowest frequencies.All subwoofers feature both balanced (XLR) and unbalanced (RCA) input/output connectors and comprehensive control options that allow for adapting to different room acoustics and requirements.<b> Panel / Controls </b>All subwoofers feature a level control (-60dB to +6dB), phase switch (180deg.) and a variable upper frequency control (50-150Hz). For the satellite outputs, an 85Hz high pass filter can be switched in to block frequencies below 85Hz so satellite speakers can meet the Dolby recommendations for theater sound and also to relieve the satellites from the lower frequencies. In addition, you can either switch on/off the subwoofer manually or use the option of automatically powering up the subwoofer whenever it receives a signal (signal-on/ continuous).
Prices updated daily on Shopbot. Please refer to the retailer's website for final price.
Product Details
Price
Product and pricing data are sourced from third parties for informational purposes only. We strive to provide correct information, but are not responsible for inaccuracies. Should you find any errors, please help us by reporting it.