Home»
Accsoon CineEye 2 Pro Wireless Video Transmitter amp Receiver Set
Accsoon CineEye 2 Pro Wireless Video Transmitter & Receiver Set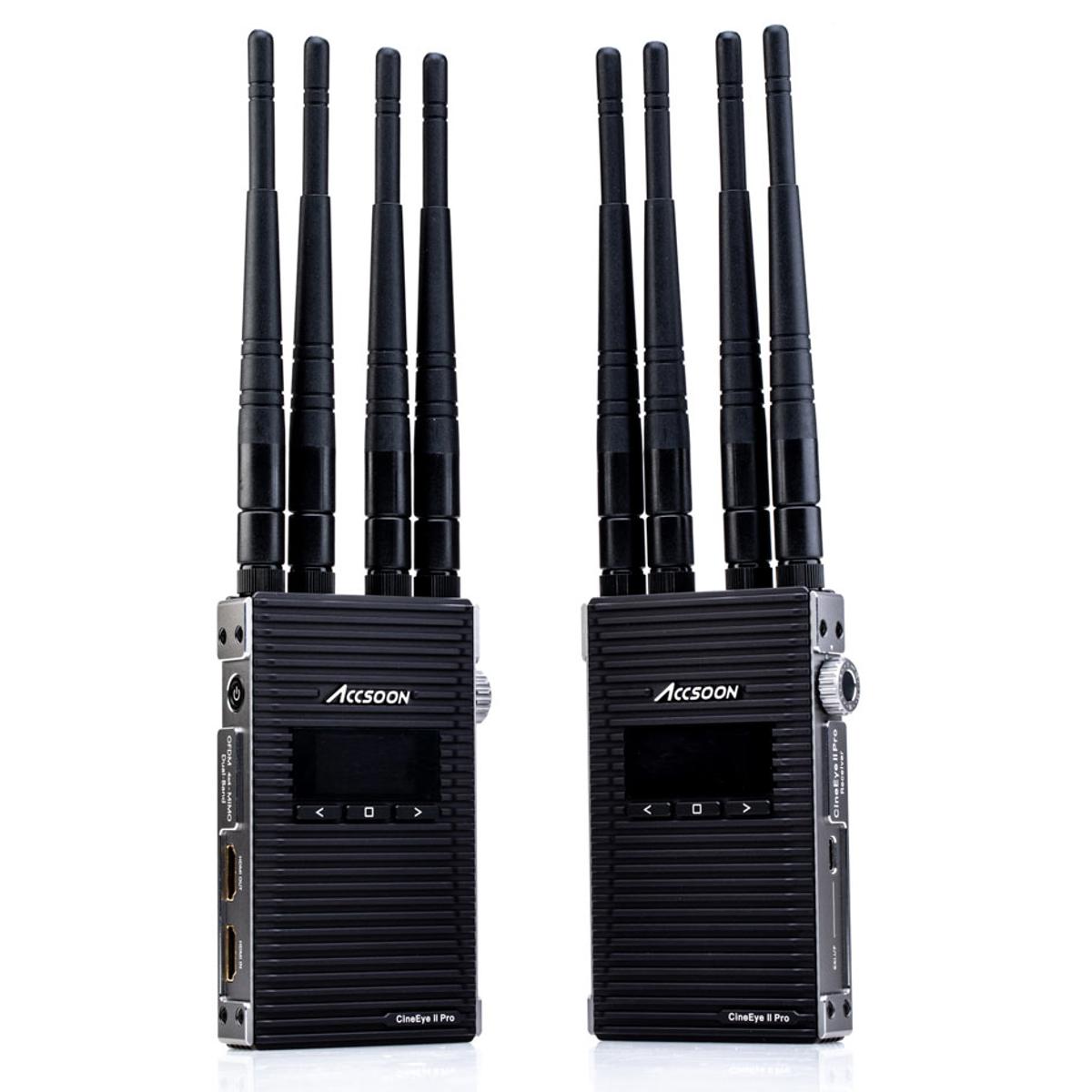 The best price by
$599.00
Accsoon CineEye 2 Pro Wireless Video Transmitter & Receiver Set Description
<b>Introducing the CineEye 2 Pro</b><B>Pro Features. Pro Strength. Pro Control.</b><Br><Br>The Accsoon CineEye 2 Pro is not your average wireless video transmitter. Not even close. Boasting transmission ranges of well over a mile to up to 4 dedicated receivers - the CineEye 2 Pro brings cinema grade transmission to everyone. It not only transmits a wi-fi signal directly to iOS or Android devices, but now also allows for a video signal to be sent to dedicated receivers.<Br><Br><b>You Already Have the Monitors. Now Have More.</b>CineEye 2 Pro not only transmits a wi-fi signal directly to iOS or Android devices, but now also allows for [Read more...] a video signal to be sent to dedicated receivers. This means that you can plug the receivers into anything with an HDMI input: professional monitors, HD televisions and projectors. The best part; by introducing dual channel transmission and reducing negative interference, those receivers can be over a mile away and still give you complete control over the situation.<b>Low Latency, High Quality Signal</b>With an average latency of under 60ms, the CineEye 2 Pro has nearly undetectable lag while its strong dual channel wireless signal maintains a high-quality image. By using a dual channel signal, the CineEye 2 Pro is also highly resistant to outside interference, and automatically modifies and selects channels that have the least resistance. The transmitter also alters the bitrate and video quality of the outgoing signal in order to maximize connection and framerate to make sure you are always able to monitor what is happening. <b>Take control of your power</b>By swapping from an internal battery to a battery cradle for both the transmitter and receiver units, you can now supply the CineEye 2 Pro with power from any Sony-style NP batteries. Keep extra batteries on-hand for all day shooting or plug the CineEye 2 Pro into ground power via the built-in DC input on both the transmitter and receiver. Now, you can send beautiful HD video to your monitors for as long as the shoot requires.<b>Pro Control in the palm of your hand</b>Already boasting features such as focus peaking, zebras, false colors for exposure, and LUT overlay that Accsoon users have come to love - the CineEye 2 Pro opens up possibilities by providing complete control over your camera. The CineEye 2 Pro App lets you start and stop the camera remotely, change the aperture, shutter speed, or even ISO. Minimize crew movement and noise while maintaining control from a distance.<b>Powerful and Budget Friendly</b>With its high-end features typically found in expensive transmitters combined with its budget price - the Accsoon CineEye 2 Pro will grow to be an essential part of both budget videographer's and high-end cinematographer's kits.
Prices updated daily on Shopbot. Please refer to the retailer's website for final price.
Product Details
Price
Product and pricing data are sourced from third parties for informational purposes only. We strive to provide correct information, but are not responsible for inaccuracies. Should you find any errors, please help us by reporting it.