Home»
8Sinn Ultimate Kit for Red Komodo Camera
8Sinn Ultimate Kit for Red Komodo Camera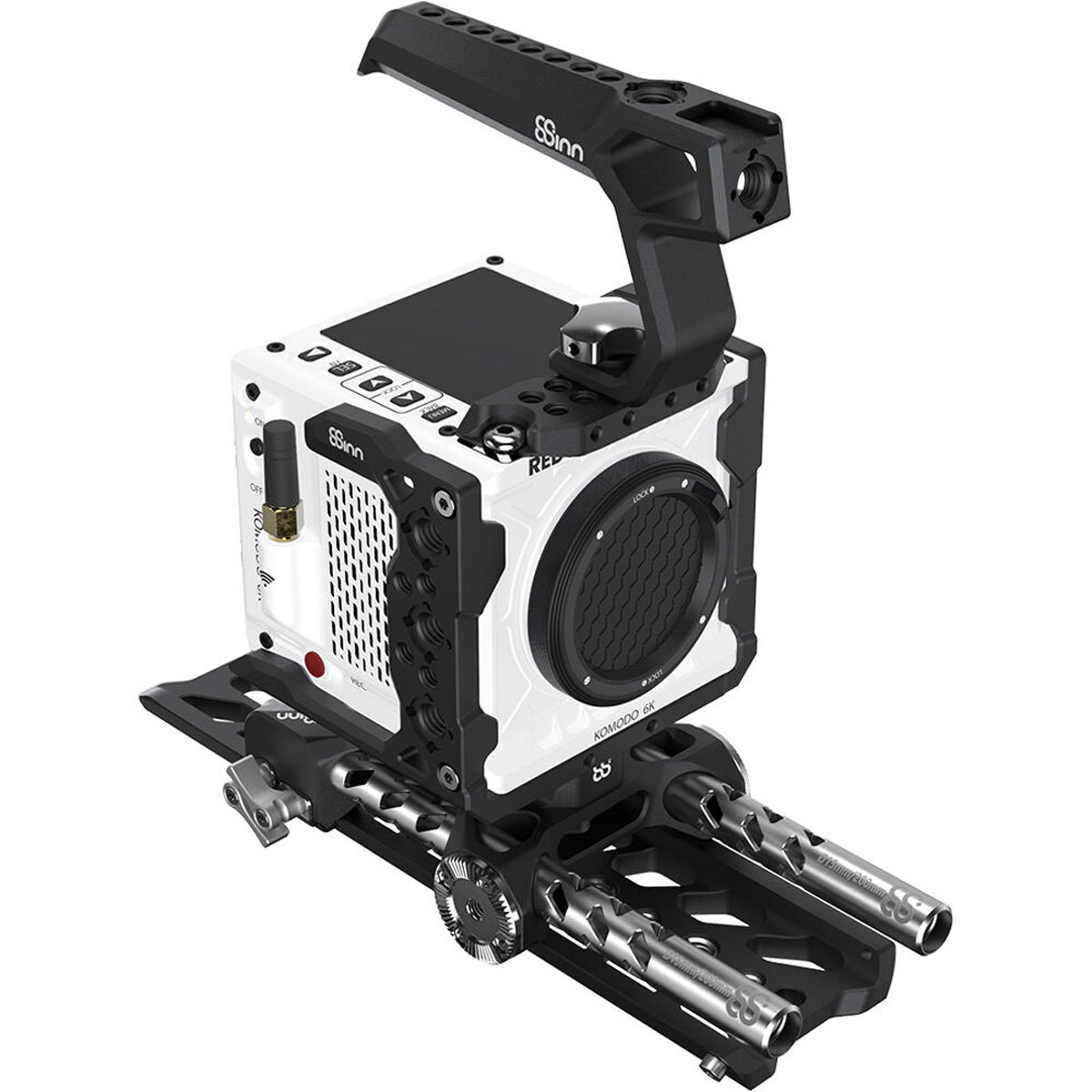 The best price by
$562.00
8Sinn Ultimate Kit for Red Komodo Camera Description
<b>- Cage -</b><BR>8Sinn Cage for the RED KOMODO is an open cage, with no top and rear edges. The Top Plate can bee add separately when needed. 8Sinn cage is a combination of functionalities and modern design embedded into a solid but lightweight aluminum base. Both sides are equipped with Arri Locating points which guarantee solid accessories attachment. Besides that, there are 1/4" mounting points on both sides. The bottom of the cage has 1/4" threads and relief holes to lessen the weight. The cage is attached to the Komodo camera at 6 points - bottom 1/4" and 3/8" plus 2x M4 Threads on each side.<BR><BR><Br><b>- Top Plate -</b><BR>8Sinn [Read more...] Top Plate for the RED KOMODO is an autonomic part. It can be used together with the 8Sinn cage or it can be used alone. It is equipped with three different kinds of threads - all standard for camera accessories. It has been designed to perfectly fit the camera body and not to disturb any part of it.<BR><BR><BR><B>- Black Raven Top Handle -</b><BR>The new top handle from 8Sinn. Fresh designing approach with proven solutions all over it. Arri standard locating pins with the 3/8" mounting screw in the middle guarantees safe and steady handle-to-cage attachment plus adjustment. Besides that, the users can find the usual 1/4" threads on top and the cold shoe mount at the front-top. Simple, but still functional top handle for handheld shots and lightweight setups.<BR><BR><BR><B>- 15mm Baseplate -</b><Br>The presented base plate has been carefully designed to minimize its weight to a minimum. Rod mounting section is compatible with any 15mm rods (stainless, carbon, aluminum). There is a tightening screw on each side. The second tightening screw on the right side serves to fix the base plate in place on the Arri Dovetail Plate. Arri Rosettes on both sides allow you to add side arms and transform your set-up into a shoulder rig. The top section of the Baseplate has been prepared to add the Riser Plate.<B>- Riser Plate I -</B><BR>Riser Plate mounted on 8Sinn Base Plate used together with one of the cages listed below will help you to obtain the standard, 85mm optical center. The presented accessory is made out of light aluminum alloy and its equipped with rubber pads for safer mounting and standard mounting screws. This product along with other 8Sinn accessories has been prepared to help you create a perfect setup.<BR><BR>Compatibility: The presented Riser Plate allows to obtain the optical center when used with the following cages:<BR>• 8Sinn Z CAM E2-S6/F6/F8 Cage<BR>• 8Sinn Z CAM E2 Cage<BR>• 8Sinn Sony a7III / a7RIII Cage<BR>• 8Sinn Sony A7RIV Cage<BR>• 8Sinn Cage for Sony a7SIII<BR>• 8Sinn BM Pocket Cinema Camera 4K / 6K Cage<BR>• 8Sinn BM Pocket Cinema Camera 4K / 6K Half Cage<B>- 10" Arri Dovetail Plate -</b><BR>8Sinn 10" Arri Dovetail Plate is a standard solution for advanced camera rigs. Fashioned from one piece of air aluminum with weight-reducing holes and Helicoil threads for extra precision and endurance. The plate is equipped with an essential release pin and stopper screw. Smooth guide rails are compatible with every dovetail-related accessory. Recommended when working with large lenses and heavy camera setups, where maximum balancing is required.
Prices updated daily on Shopbot. Please refer to the retailer's website for final price.
Product Details
Price
Product and pricing data are sourced from third parties for informational purposes only. We strive to provide correct information, but are not responsible for inaccuracies. Should you find any errors, please help us by reporting it.