Home»
360RIZE Pro6 v2 360 Plug n Play Holder Kit GoPro Cameras Not Included
360RIZE Pro6 v2 360 Plug-n-Play Holder Kit (GoPro Cameras Not Included)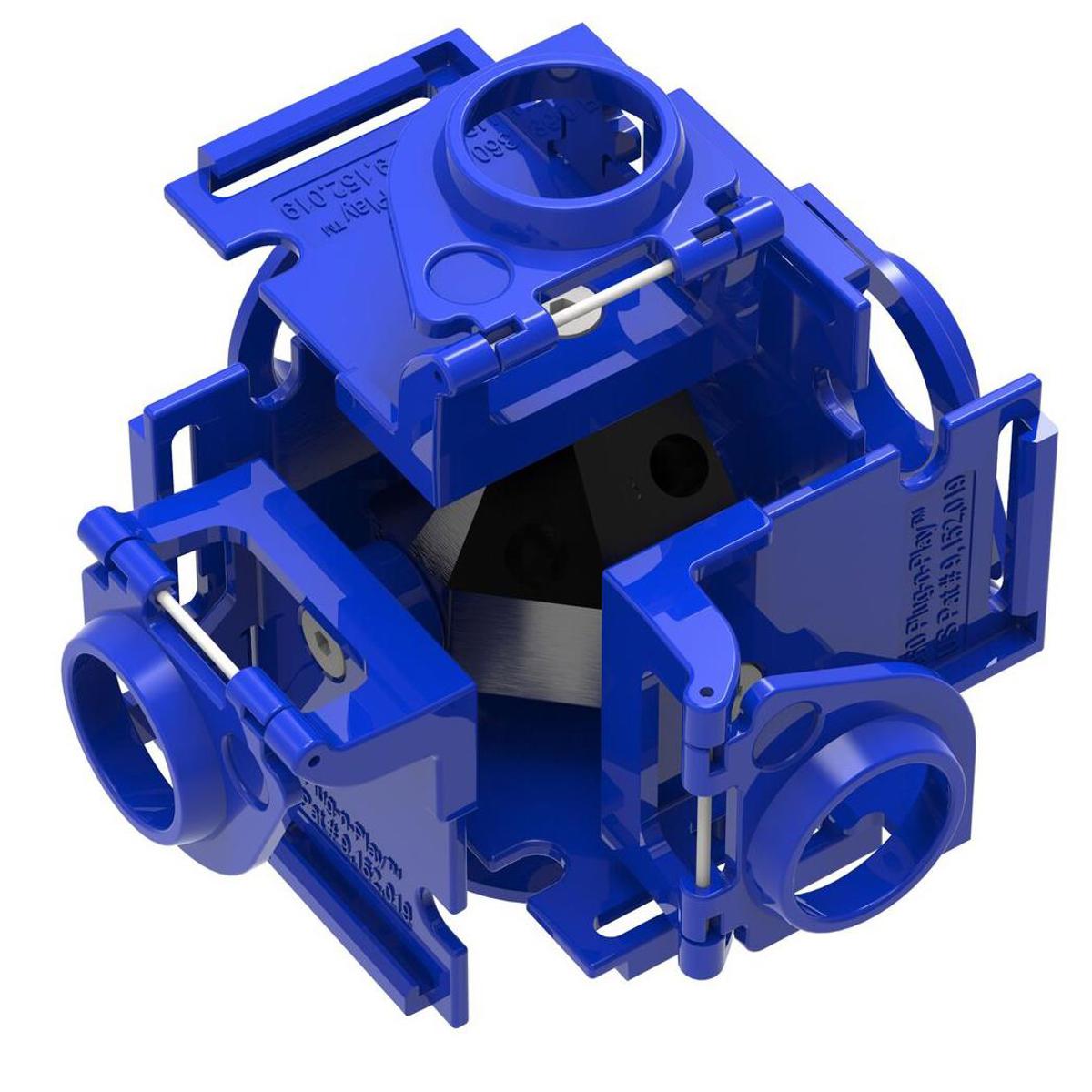 The best price by
$249.00
360RIZE Pro6 v2 360 Plug-n-Play Holder Kit (GoPro Cameras Not Included) Description
<b> Pro6 v2 360 deg. Plug-n-Play Holder </b> The Pro6 v2 is a professional tool for filming 360 deg. virtual reality video content. Positioning GoPro cameras in a spherical orientation, the Pro6 v2 360 Plug-n-Play Holder captures high resolution (up to 7,500 x 3,750 pixels) content that can be viewed with the Oculus Rift, Samsung Gear VR, Google Cardboard and the industryf ½s other leading virtual reality head mounted displays and platforms. The Pro6 v2 is an all-purpose solution for filming immersive virtual reality content in both indoor and outdoor environments. The Pro6 v2 is a modular redesign of their original six-camera Plug-N-Play Holder. The new design features hinged [Read more...] camera arms for simple camera installation and durability, an anodized aluminum core for improved strength and 3/8" mounting points. The Pro6 is a powerful, easy to use tool for content creators interested in filming interactive, high resolution virtual reality 360 deg. spherical video content.• Mounts 6 cameras in a spherical orientation to facilitate capturing 360 x 180 degree videos and photos • Patent-pending 360 Plug-N-Play design for simple camera installation and removal on set • New modular design and Hinged camera holders add durability and easy camera installation • Compatible with GoPro Hero3, Hero3+ and Hero4 series cameras • Holder features qty. 2 - 3/8" threaded mounting points • Compatible with 3/8" monopods, tripods and other standard mounting solutions • Holder features qty. 42 - Fishing line mounts - to facilitate suspended, invisible mounting • Output resolutions up to 7,500 x 3,750 pixels • Compatible with drones and UAVs • high-strength aircraft-grade flexible nylon offers flexibility and durability <b> Uses/ Highlights </b> • All-purpose model for indoor and outdoor filming • Simple tripod and monopole mounting <b> 360CamMan V2 VR Video Media Management Software </b> 360RIZE 360CamMan is a Data File Management Software developed from many hours of painstaking labor in trying to manage large numbers of cameras and files simultaneously. A proven 360 video workflow suite, 360CamMan's 360 video file management and camera file manager tool sets prep your files and allow you to "drag-n-drop" data into your video stitching software. This tool set converts hours of file management into just minutes. <b> 360 Video Workflow Tools </b> • PC and MAC Ready • Multi-Port USB Readers for automated services • Automated SD Card formatting • Automated SD Card file copy • Manage Video Files • Manage Time Lapse Photos • Video Analyzer - check camera Setup properties • Video Analyzer - check frame Counts and Manage takes easily • Instant Multi-Take Folder and file Manager <b> 360 Video Tools </b> • Convert Video Files to 360CamMan file manager format • Convert Time Lapse Photos to 360CamMan file manager format • Remove GoPro 4Gig file limit and merge files together • Build 3D Side-by-Side file format for Gear VR and Oculus Rift HMDs • Video Optimizer for DK1, DK2, Gear VR, Dome Masters, Web 1K, 2K and 4K • Video sync Calculator for Video-Stitch and Color Offset from Adobe Premiere <b> Video Stitching Software </b> Video Stitch is a GPU based Video Stitcher. A version will be available at no cost upon product delivery. When the Beta package expires you can then purchase the full version from 360RIZE site. More details will be provided when the software Beta becomes available. This product requires PTGUI to define the 360 Stitch then Video Stitch does the actual video stitching via GPU processing. This process is much faster however requires a NVidia Video Graphics Card. More details to follow.
Prices updated daily on Shopbot. Please refer to the retailer's website for final price.
Product Details
Price
Product and pricing data are sourced from third parties for informational purposes only. We strive to provide correct information, but are not responsible for inaccuracies. Should you find any errors, please help us by reporting it.